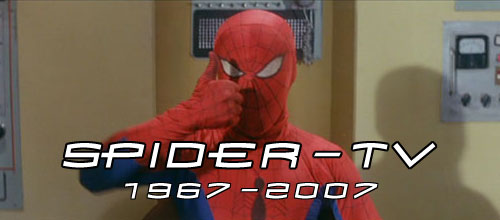 1967

Spider-Man

The 1967 cartoon series started it all. The animation may be primitive by today's standards, but this show had the awesomest theme song EVER.
1974

Spidey Super Stories

Spidey Super Stories was a recurring skit on The Electric Company. This is the first one entitled "Spidey Meets the Spoiler." In other episodes, Spidey tangles with villains like Dracula, the Easter Bunny, and the Yeti. Hey, it was a kids show.

Fun Fact: Morgan Freeman appeared in many segments playing a variety of characters including Easy Reader and Dracula.
1977

The Amazing Spider-Man

In 1977, The Amazing Spider-Man became the first serious live action version of Spider-Man. Nicholas Hammond starred as Peter Parker with J. Jonah Jameson and Aunt May also appearing. Although it looks pretty dated, there's still a charm to the series and its funky theme song.
1978

Supaidaman

The bizarre Japanese interpretation of Spider-Man is an internet favorite. Takuya Yamashiro, a motorcycle stuntman, becomes Supaidaman when he is granted super powers by an alien from the planet Spider. He battles monsters in the Marveller, a spaceship that transforms into a giant robot named Leopardon. Supaidaman also drives around in the Spider-Machine GP-7, his super racecar. Follow all of that?

Fun Fact: Stan Lee reportedly enjoyed the show.
1981

Spider-Man

Spider-Man returned to cartoon form in 1981. He battled many classic villains in the series with a number of run-ins with Doctor Doom.