Alyssa Milano
Arnold Schwarzenegger performs "Jenny and Me" from "Commando: The Musical."
(NSFW)
Starring Aziz Ansari, Adam Scott, Michael Pena, Donald Glover, Alyssa Milano, Rose McGowan, Ron Livingston, Gillian Jacobs, Brad Goreski, Criss Angel, Chris Gorham, Kal Penn, Eric McCormack, Eriq La Salle, Mary Lynn Rajskub, Lake Bell, and Adrienne Maloof
A load of celebrities urge you to vote.
Alyssa Milano undergoes a frightening transformation.
Mr. Skin and friends run through the top 10 nude scenes of all time featuring the likes of Halle Berry, Alyssa Milano, Jessica Biel, Anne Hathaway, Marisa Tomei, and Angelina Jolie.
(Maybe NSFW)
A couple of alternate zingers for Bennett.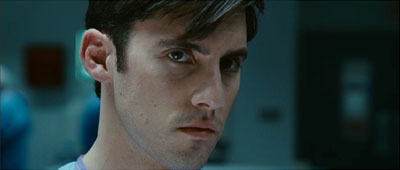 Milo Ventimiglia and Michael Weston are medical students playing a deadly game in the thriller Pathology. Alyssa Milano and John de Lancie (Q from Star Trek) also star.