Jude Law
The sequel to the greatest movie ever not made.
Sherlock Holmes and his sidekick Dr. Watson join forces to outwit and bring down their fiercest adversary, Professor Moriarty.
Robert Downey Jr. and Jude Law return as Sherlock Holmes and Watson.
SNL, Jude Law, and Pearl Jam present their take on the classic Twilight Zone episode.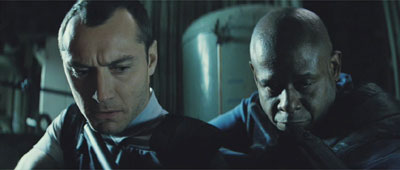 Humans have extended and improved our lives through highly sophisticated and expensive mechanical organs created by a company called The Union. The dark side of these medical breakthroughs is that if you don't pay your bill, The Union sends its highly skilled repo men to take back its property... with no concern for your comfort or survival.
Jude Law, Forest Whitaker, and Liev Schreiber star.
The Imaginarium of Doctor Parnassus is a fantastical morality tale, set in the present day. It tells the story of Dr Parnassus and his extraordinary 'Imaginarium', a traveling show where members of the audience get an irresistible opportunity to choose between light and joy or darkness and gloom.
Detective Sherlock Holmes and his stalwart partner Watson engage in a battle of wits and brawn with a nemesis whose plot is a threat to all of England.
Robert Downey Jr., Jude Law, and Rachel McAdams star.
Robert Downey Jr. brings the legendary detective to life as he has never been portrayed before. Jude Law stars as Holmes' trusted colleague, Watson, a doctor and war veteran who is a formidable ally for Sherlock Holmes. Rachel McAdams stars as Irene Adler, the only woman ever to have bested Holmes and who has maintained a tempestuous relationship with the detective.