Sean Bean
Theme park manager Eddie Stark has one week to whip his lackluster group of employees into shape before the park's grand opening.
The year is 1348. Europe has fallen under the shadow of the Black Death. As the plague decimates all in its path, fear and superstition are rife. In this apocalyptic environment, the church is losing its grip on the people. There are rumors of a village, hidden in marshland that the plague cannot reach. There is even talk of a necromancer who leads the village and is able to bring the dead back to life. Ulric (Sean Bean), a fearsome knight, is charged by the church to investigate these rumors. He enlists the guidance of a novice monk, Osmund (Eddie Redmayne) to lead him and his band of mercenary soldiers to the marshland, but Osmund has other motives for leaving his monastery. Their journey to the village and events that unfold take them into the heart of darkness and to horrors that will put Osmunds faith in himself and his love for God to the ultimate test.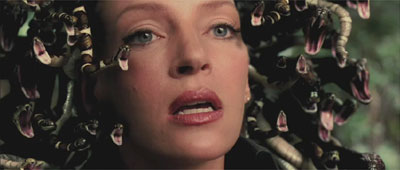 It's the 21st century, but the gods of Mount Olympus and assorted monsters have walked out of the pages of high school student Percy Jackson's Greek mythology texts and into his life. And they're not happy: Zeus' lightning bolt has been stolen, and Percy is the prime suspect. Even more troubling is the sudden disappearance of Percy's mother. As Percy adapts to his newly discovered status as a demi-god (his father is Poseidon), he finds himself caught between the battling titans of Mt. Olympus. He and his friends embark on a cross-country adventure to catch the true lightning thief, save Percy's mom, and unravel a mystery more powerful than the gods themselves.
Logan Lerman, Pierce Brosnan, Catherine Keener, Uma Thurman, Rosario Dawson, Steve Coogan, Joe Pantoliano, and Sean Bean star.