SXSW
Presentation video for the SXSW "Excellence in Title Design" competition screening.
Compilation of classic movie titles.
A plumber spirals into depression and drug use, but rises up to become a hero.
What Would Jesus Buy? is Morgan Spurlock's new documentary which follows the efforts of Reverend Billy and The Church of Stop Shopping. It premiered at SXSW.
Twisted - A Balloonamentary is all about people that love to make balloon animals. It's narrated by Jon Stewart and playing at SXSW now.
Confessions of a Superhero is a documentary about those struggling actors that dress up as superheroes and pose for pictures outside Grauman's Chinese Theater in Hollywood. It's currently playing at SXSW.
Robert Rodriguez announced the finalists and winner of his grindhouse trailer competition at the SXSW Grindhouse 101 Panel. The winner: HOBO WITH A SHOTGUN.
People did some really amazing work on these trailers. (Trailers are NSFW.) Check out the other finalists: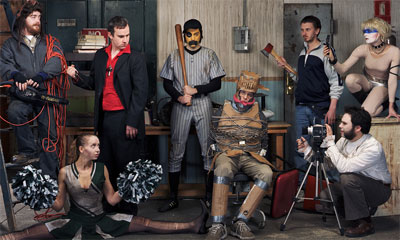 Murder Party is a new horror comedy featuring a dead cheerleader, a vampire, a chainsaw-wielding wolfman, a Baseball Fury from The Warriors, a cardboard knight, and Pris from Blade Runner. Makes sense to me. It's currently screening at SXSW.